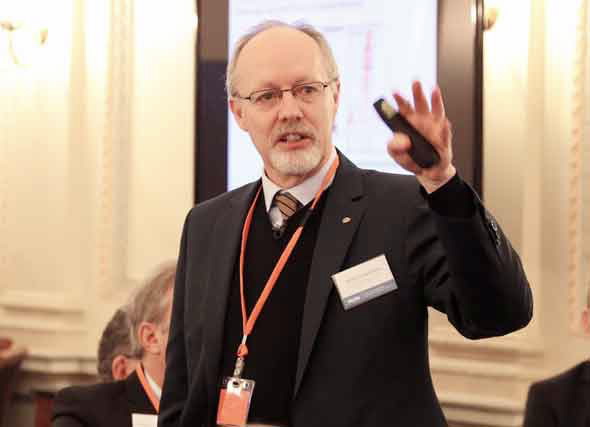 ANSTO's role in improving the health outcomes of cancer patients in Australia and the world was highlighted at a special event held for members of the Victorian Parliament on 21 June.

Professor Rod Hicks, Director of the Centre for Cancer Imaging at the Peter MacCallum Cancer Centre was a guest presenter who highlighted how Australia's scientific infrastructure has supported pioneering translational research and drug development and the importance of partnerships between researchers and clinicians.

ANSTO CEO Adi Paterson spoke to guests about how ANSTO's landmark technology is used collaboratively for cutting-edge research to improve the diagnosis and treatment of cancer and for investigations into other diseases.

"The OPAL research reactor allows Australia to benefit from one of the most modern, reliable, productive, and safe multi-purpose research reactors in the world," said Dr Paterson.

"OPAL's associated facilities undertake world-leading studies and clinical collaborations to develop the next generation of radiopharmaceuticals," said Dr Paterson.

He pointed out that the Australian Synchrotron, currently being acquired by ANSTO, was a crucial piece of infrastructure that has secured an international reputation for research excellence including key collaborations with the Peter McCallum Cancer Centre and many other research institutes.
Partnerships with the Peter MacCallum Cancer Centre have led to the development of a novel radiotracer for melanoma and a new diagnostic therapeutic for neuroendocrine tumours and potentially childhood cancers.
Dr Paterson thanked the Victorian Government for establishing and supporting the Australian Synchrotron and hoped for a continuing close partnership.

His presentation included an update on ANSTO's $168.8 million Nuclear Medicine project, currently in development, that will ensure Australia's supply of nuclear medicine into the future and potentially supply up to 25 per cent of world demand.

Dr Paterson said that ANSTO had a license to produce an isotope of lutetium for clinical use in the treatment of neuroendocrine tumours and trials were underway on this promising therapeutic drug.

The Hon Philip Dalidakis, Victorian minister for Small Business, Innovation and Trade congratulated ANSTO for its contribution of nuclear medicine that, "lights the darkness, where cancer patients must tread." He emphasised the Government's commitment to using innovation and science to improve health.
The program was hosted by ANSTO Board Member, Prof Andrew Scott.
Published: 22/06/2016